Poker Blue Snake Eyes AA - Wild Vetiver
Poker Blue Snake Eyes AA - Wild Vetiver
Luxury decorative scented flame candle Poker Blue Snake Eyes AA, harmonious, elegant, and attractive not only for the admirers of luxury candles but also for everyone else. It is a handmade and purely natural product. The filling contains paraffin-free of parabens and no harmful chemical substances, the wick is also handmade. Build a collector's collection of these candles. Do you already have all types? Bestsellers: Poker Blue Snake Eye AA, Poker Blue As a Queen AQ, Poker Blue Jesse James JJ, Poker Blue For the King K4, Poker Blue Love Story QJ
more information
---
---
Like all the luxury candles in our offer, it is a handmade and purely natural product. The filling contains paraffin-free of parabens and no harmful chemical substances. The flammable wick is also handmade. Its irresistible long-lasting luxury fragrance is made from the finest natural perfumes that will give you a pleasant relaxing atmosphere at home, work, or where you like to stay.
The candle cover is made from light iron, which is also available in various other fragrances in our offer. The glass cover is practical and suitable for further use, flower pot, decorative jewelry box, box for small items in the bathroom, box for dried but also live fragrant flowers, etc.
Our customers like this product for its shape, an exceptional fragrance with the name Wild Vetiver and high quality. You can enjoy this highly luxurious and elegant product, or please your surroundings. You can add an original gift package to this beautiful candle, which you can find in our offer on our online store.
We wish you an unforgettable atmosphere when using the product.
Material
Handmade iron with custom carving.
100% vegetable wax scented candle.
Weight
Net weight of wax: 250 g
Net weight of the candle: 600 g
Burning Time
Approximately 60 hours
Handling safety
Do not put the candle close to flammable materials and children, and it is recommended to put it out after leaving the room.
Do not place candles on unstable shelves or on fragile surfaces. The candle could overturn and cause a fire.
Protect the candle from sunlight.
Care
In the cold state of the candle in the case of the wax threshold, dry the cloth gently wipe the surface (do not press).

For more information on how to use the product, see the product insert.
Fragrance
Wild Vetiver - ideal for woman and man. Top notes: Bergamot and pepper. Heart notes: Verbena and vetiver. Base notes: Birch and amber wood.
Made in
Country: France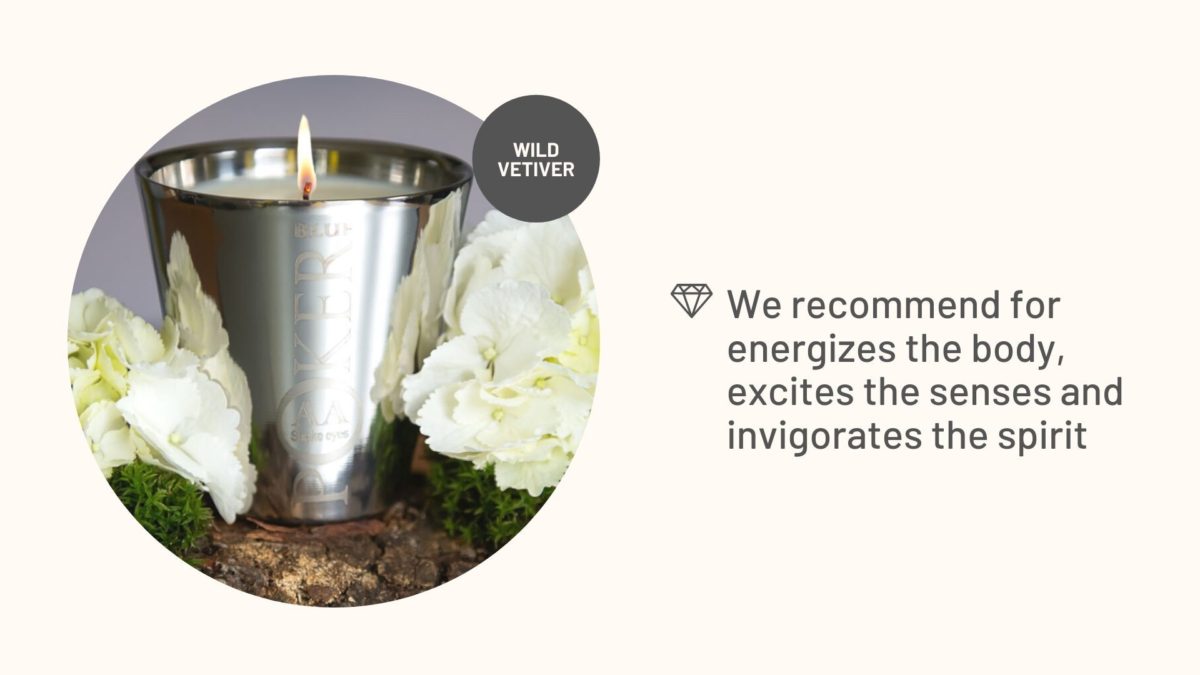 Products from the same category
Handmade luxury products with premium quality and style
Free post-warranty service for 1 year
We are cooperating with designers all around the Europe
Special gift to you from us for every purchase