Huang - sideboard
The luxurious massive sideboard HUANG materializes the unspeakable scenery of the mountains in East China, after which this handmade furniture was named. Massive shape will appeal to lovers of quality wood. Nature is first materialized in each handmade piece and becomes a unique one.
more information
---
Request a product price and we will be happy to advise you on your specific product requirements.
The HUANG side storage cabinet is composed of several materials that complement each other but do not interfere with the overall appearance. The surface is made of walnut veneered wood, which subtly passes from brown walnut shades to dark structures. Internal liner filling is made of rosewood, where refined found slats of the same material. The opening handles are fine-tuned with matt brass so that they do not interfere with the overall appearance. Irregular pedestal made of walnut wood underlines its uniqueness.
HUANG storage cabinet adds the character of every home interior, it is suitable for residents, yachts, offices, but also ideal for companies, restaurants or hotels.
Waiting time is 3-8 weeks.
Material
Structure in matte walnut root veneer (outside) and in matte pau santo veneer (inside), with brushed aged and hammed matte brass base.
Door and drawer handle in cast aged brass matte and shelves in smoked glass.
Color
It features an outside in walnut root veneer, an inside in rosewood veneer and details in matte hammered brushed aged brass.
Size
Approximately

WIDTH 220 cm | 86,6"
DEPTH 50 cm | 19,7"
HEIGHT 87 cm | 34,3"
Weight
Approximately
0,000kg
Care
The sideboard is not suitable for exposure in harsh weather, cleaning with aggressive cleaning agents is not recommended. Natural materials and oils are suitable for maintenance.
Made in
Country: Portugal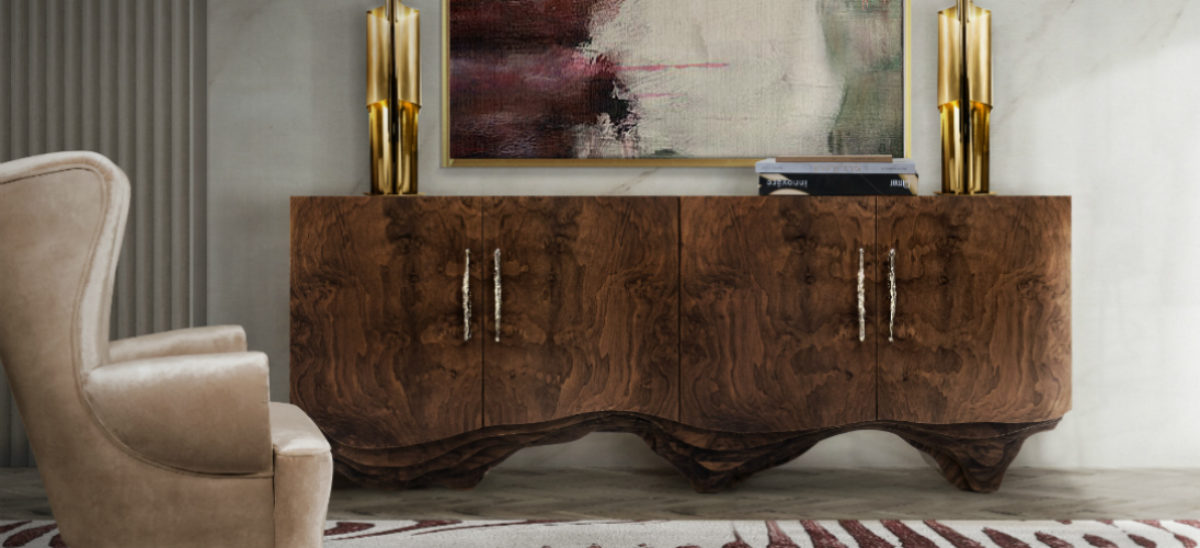 Products from the same category
Handmade luxury products with premium quality and style
Free post-warranty service for 1 year
We are cooperating with designers all around the Europe
Special gift to you from us for every purchase